SSC Tech Entry 59th Course: SSB Date Selection Link Open Now
The Indian Army has invited the selected students who applied for the direct SSB. Those who received a message from the Indian Army should choose an SSB date as soon as feasible. So make your choice as soon as feasible. Major Kalshi congratulates individuals who received mail from the Indian Army for the next stage of selection.
The interview method and procedure for the SSB (Service Selection Board) are always the same. This SSC (Short Service Commission) Entry permits unmarried Indian men and women to enter the service as SSC, as well as a window for defence troops who died in harness due to the grant of a short service commission. Without an SSB interview, there is no way to become an officer in the Indian Armed Forces. Being an officer in the Indian Armed Forces is a requirement. Let's go through the entire method or protocol of the SSB Interview, and then we'll go over some preparation advice for this interview.
How to prepare for SSC tech SSB Interview:
Join a defence coaching programme to learn about the interview process and how to impress the examiner or interviewer. You will be able to communicate with the officers during the interview since SSB interview lessons are taught by ex-military personnel at a top defence coaching facility. You will have a thorough understanding of this 5-day interview after 3 to 4 weeks.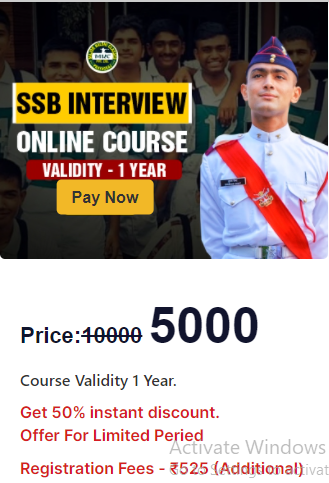 After you have a thorough understanding of the interview and its format, you should begin reading SSB materials and preparing for the verbal-nonverbal intelligence exam. Because this is the first round of interviews, and if you don't pass, you'll be sent home. So plan ahead of time. For the greatest preparation, you can enrol in our coaching academy Major Kalshi courses. Here are some basic topics to keep in mind as you prepare for this interview.
Positive thinking.
Good Confidence.
Clear about the Process of the Interview.
Proper training.
Hard work in a smart way.
Prepare well for this interview. You may also use the SSB Interview Books to prepare for this interview. To prepare by books, you must first understand the method and procedure of the interview. You might look into the books published by Major Klash classes, which are written specifically by Ex-SSB Interviewers and contain all of the tips and methods needed to pass the SSB Interview.