NCC Special Entry 52nd Course: Date Selection Link Open Now
Course NCC special entry scheme-52 (men) (Oct 2022): the date selection link for the NCC special entry scheme 52 courses (Oct 2022) (men) (including wards of battle casualties army personnel) is now available. candidates are asked to select the ssb date from the date selection link on their profile. the date selection link will be available until 1300 hrs on June 2, 2022.
Documents required for SSB interview of NCC Special Entry Scheme:-
The following documents are required by the candidates for the SSB interview to be held during NCC Special Entry.
NCC C Certificate was originally obtained by NCC.
12th class mark sheet and certificate and graduation mark sheet and certificate.
Mark sheets of all semesters of all the years of graduation.
Certificate issued by the Principal to the candidate while awaiting the final examination Certificate of Indian Nationality.
Issue a declaration in which you are not presenting the original certificate in your capacity.
To join in NCC and prepare for the SSB interview under NCC Special Entry, you must enrol at Major Kalshi Classes Coaching Institute. MKC Coaching Facility is one such coaching institute that will help you prepare for the Indian Air Force, Army, and Navy recruitments. MKC Coaching Institute is the best defence coaching institute in India. To enrol and for further information, please call the number provided by us or visit the official website.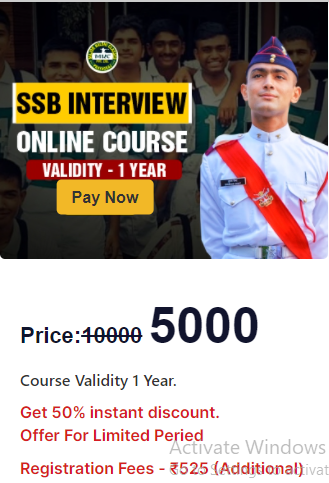 SSB Interview Preparation:
There are several laws and regulations that must be followed during the SSB Interview. It is critical that every candidate that appears in the interview is aware of this. Any incorrect movement or unacceptable behaviour may result in your disqualification.
Major Kalshi Classes prepare students for the SSB Interview in less than a month, with training provided by ex-SSB interviewers and defence officers, among others. It is simple for every applicant to receive excellent training at MKC. Join a reputable SSB Coaching Institute in India to be well-trained in all areas and pass the interview.
MKC 14 Days SSB Training Details:
| | |
| --- | --- |
| Days | Details |
| DAY – 1 | Introduction to SSB(5 days SSB Procedure, Officer Like Qualities & PIQ form) |
| DAY – 2 | Screening |
| DAY – 3 | Screening test, Mock practice and Feedback |
| DAY – 4 | Introduction to Psychological Test & Thematic Apperception Test |
| DAY – 5 | Word Association Test & SRT (Situation Reaction Test) |
| DAY – 6 | Self Description Test & Complete Psychological Test and Feedback |
| DAY – 7 | OIR, (Verbal and Non-verbal Reasoning class) |
| DAY – 8 | Personal Interview Briefing |
| DAY – 9 | Mock Interview & Feedback to Student |
| DAY – 10 | Mock Interview & Feedback to Student |
| DAY – 11 | G.T.O. Briefing, GD and Lecturette |
| DAY – 12 | P.G.T, H.G.T, G.P.E, & G.O.R. |
| DAY – 13 | IO, CT, FGT and Conference |
| DAY – 14 | CPSS TEST |